.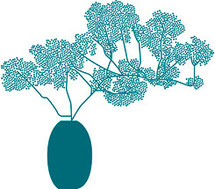 My ultimate goal as a certified naturopath and paediatric healing practitioner is to activate self-healing powers of the human body. In the natural medicine this means a holistic approach, involving not only individual symptoms, but the whole human being with his/her personality and his/her mental condition. Natural remedies and individual therapy can help you regain your inner balance and restore your health. I use therapeutic methods that originate from natural medicine and classical homeopathy. The aim of these methods is to enable healing processes and to achieve a rapid, gentle and permanent restoration of your health.
I gladly advise and treat you and your family in the following areas:
Children's Healing
As a certified healing practitioner of children I offer both diagnosis and treatment of newborns, children and young people with various diseases. My main focus is on general natural remedies, especially Chinese therapeutic massage for infants (Xiao Er Tuina), homeopathy and acupuncture for children. It is also of great importance to me to have sufficient time to advise you and assess your child's development.
Traditional Chinese Medicine
The more than 2000 years old ancient Chinese art of healing is one of the oldest healing methods successfully applied in the world and it has a prominent place in the primary health care of the Western world. As an independent medicine it offers you therapies which are complementary and alternative to Western medicine. It includes a variety of healing methods, such as acupuncture, acupressure, the use of certain herbal remedies and therapeutic massage.
Biological Treatment of Wrinkles
In a natural manner, with biological subcutaneous injections you can get the rejuvenated appearance of sensitive areas of your body such as your face, neck, décolleté and hands. Treatments can improve the texture, firmness and elasticity of the skin so you look as young as you feel. The remedy I apply is the most worldwide used hyaluronic acid based product for biological treatment of wrinkles.
In addition, I offer homeopathy for adults, special emergency homeopathic treatments, general massage techniquesand footreflexology.