.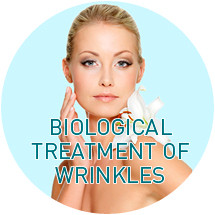 Biological Treatment of Wrinkles
The face is crucial for the attractiveness of a person. In order to help you get the younger and aesthetic appearance in a natural way, I use Restylane. Since Restylane is the most studied dermal filler based on hyaluronic acid in the world, its very good tolerability is guaranteed. The gel is injected into or under the skin to restore its volume and structure. Restylane is very natural and has a high efficacy. Just one treatment will give immediately visible results that can last up to 18 months. Restylane is the most widely used hyaluronic acid based product for biological wrinkle injections worldwide. Since 1996 more than 30 million people have trusted Restylane.
In Germany subcutaneous facial injections of Restylane may be given only by medical doctors and qualified health practitioners.
Any questions? Read more about Restylane under www.restylane.de or contact me. I will be happy to advise you in detail about this gentle rejuvenation method.